When it comes to investing in precious metals, trust is paramount. Investors seek out companies with proven reputations and a consistent track record of delivering quality products and exceptional service.
SD Bullion has firmly established itself as one of the leading providers of gold, silver, platinum, and palladium bullion, earning a trusted name in the industry.
SD Bullion's reputation for trust and reliability is well-deserved. With years of experience, they have built a solid foundation based on their commitment to customer satisfaction. This commitment sets them apart from competitors and has contributed to their rise as a reputable company in the precious metals market.
Founded by two individuals with a passion for precious metals investing, SD Bullion started as a small operation. However, through their dedication and expertise, the company quickly grew into what it is today – a trusted name in the industry.
Their focus on providing exceptional service has earned them praise from investors who value reliability and integrity.
As SD Bullion expanded its product offerings over time, they have become a one-stop destination for investors looking for gold, silver, platinum, or palladium bullion. Whether customers are interested in coins, bars, or even rare collectibles, SD Bullion offers an extensive range of options to suit different investment preferences.
Customer Reviews and Ratings for SD Bullion
SD Bullion's commitment to customer satisfaction is evident through positive testimonials and ratings. Customers praise the company for competitive prices, fast shipping, and reliable service. Testimonials from satisfied customers like Steve M., George B., and Christian Q. highlight their exceptional experiences with SD Bullion.
Steve M. recently purchased gold bullion from SD Bullion and praised them for competitive prices, fast shipping, and excellent customer service. George B. raved about the quality of silver bars he received, mentioning they matched descriptions perfectly and arrived in perfect condition.
Christian Q. had a similar experience, highlighting their vast product selection and helpful customer support.
On popular review platform Trustpilot, SD Bullion maintains an impressive average rating of 4.8 out of 5 stars based on thousands of reviews. Customers consistently mention competitive prices, fast shipping, and reliable service as reasons for their positive experiences.
These testimonials and ratings demonstrate SD Bullion's commitment to excellence and why they have become a trusted name in precious metals investing.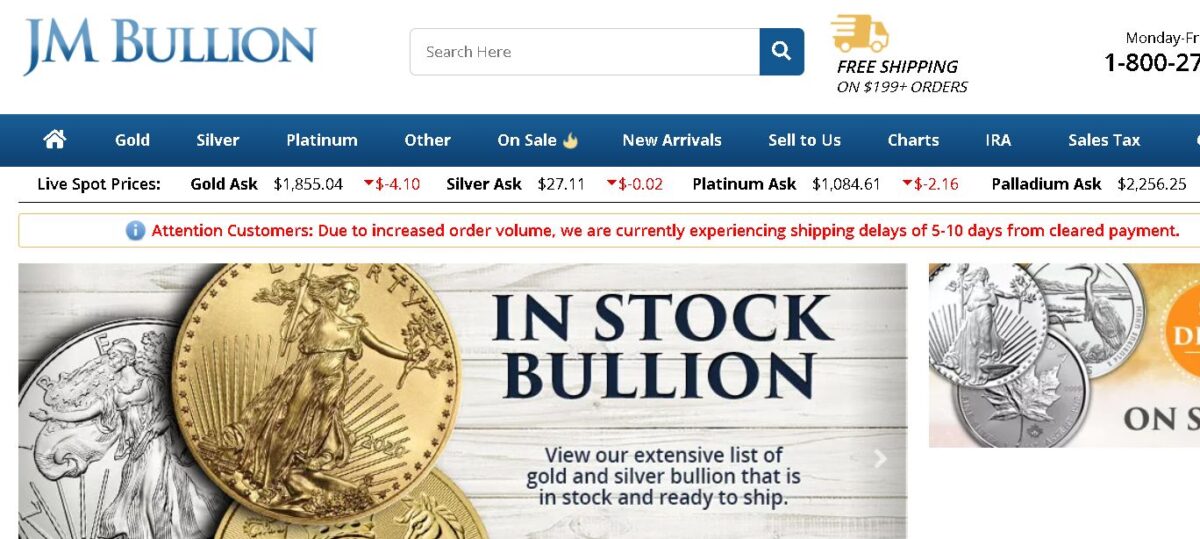 Expert Opinion: Jonathan W.'s Analysis of SD Bullion
Jonathan W., a trusted industry expert with years of experience in precious metals investing, highlights key factors that set SD Bullion apart. Their extensive selection of products, from government-minted coins to unique collectibles, provides investors with diverse options for portfolio diversification.
Additionally, SD Bullion's highly competitive pricing offers value for money without compromising quality. With a stellar reputation for product quality and transparent pricing, SD Bullion ensures customers receive genuine and authentic bullion items.
Their knowledgeable and friendly customer service team and stringent security measures further enhance the overall buying experience and protect customers' investments during shipping and storage.
Overall, Jonathan W.'s analysis emphasizes SD Bullion's commitment to providing a wide range of high-quality products at competitive prices while prioritizing excellent customer service and security.
Diane L.'s Experience with SD Bullion
Diane L., a valued customer of SD Bullion, provides an insightful account of her experience with the company. From the moment she navigated their user-friendly website to the arrival of her securely packaged order, Diane was impressed by SD Bullion's commitment to providing a seamless buying process.
One aspect that stood out for Diane was the detailed product descriptions on the website. These descriptions helped her make informed decisions about her purchases, allowing her to confidently invest in precious metals.
The ease of navigation further added to her positive experience, as she effortlessly found what she was looking for without any confusion or frustration.
Another highlight of Diane's experience was the timeliness of order processing and shipping. She appreciated how quickly SD Bullion fulfilled her order and ensured its safe delivery. The package arrived in pristine condition, underscoring the company's dedication to delivering products in perfect shape.
Additionally, Diane commended SD Bullion's responsive and helpful customer service team. They promptly addressed any questions or concerns she had throughout the purchasing journey, leaving her feeling supported and confident in her investment decision.
While overall satisfied with SD Bullion, Diane did note one area for improvement – the website could benefit from additional educational resources targeted towards beginner investors.
By providing more educational content, such as guides or tutorials on precious metals investing, SD Bullion can further enhance their commitment to helping customers gain knowledge and make informed choices.
In summary, Diane L.'s experience with SD Bullion showcases a smooth buying process, excellent customer service support, and a commitment to delivering quality products.
As an esteemed customer, Diane encourages the company to consider expanding their educational resources for beginner investors to continue fostering an environment focused on customer education and satisfaction.
Overall Assessment and Recommendation for SD Bullion
SD Bullion is a trusted name in the precious metals investing industry, known for its excellent reputation, positive customer reviews, and expert endorsements. With satisfied customers like Diane L., it's clear that SD Bullion delivers on its promise of quality products and exceptional service.
Whether you're a seasoned investor or just starting out, SD Bullion offers a wide range of options to suit your investment goals. Their competitive prices, extensive selection, and commitment to customer satisfaction make them a top choice for anyone looking to invest in precious metals.
Consider SD Bullion as your partner in achieving your financial goals and take the next step in your investing journey.
[lyte id='UAMF6aYvhoo']