In the world of investing, precious metals have always been a popular choice for those looking to diversify their portfolios and protect their wealth. With numerous precious metal dealers in the market, it's important to choose one that is not only reliable but also puts a strong emphasis on safety and security.
SD Bullion is a name that often comes up when discussing reputable dealers in the industry. In this article, we will take an in-depth look at SD Bullion and assess its safety and legitimacy.
What is SD Bullion?
SD Bullion is a prominent player in the online precious metals market, offering a wide range of gold, silver, platinum, and palladium products. With its user-friendly website and extensive selection of bullion coins, bars, and rounds, SD Bullion has gained recognition as a go-to destination for investors seeking physical precious metals.
Established in 2012 by two seasoned veterans of the industry, SD Bullion quickly carved out a niche for itself by prioritizing competitive prices, exceptional customer service, and swift shipping times. This commitment to customer satisfaction has allowed the company to build a loyal customer base over the years.
Investors visiting SD Bullion's platform are presented with an impressive array of options. The selection includes popular coins like American Eagles and Canadian Maple Leafs, alongside bars and rounds from renowned mints such as PAMP Suisse and Sunshine Minting.
Additionally, for those interested in diversifying their retirement portfolios with precious metals, SD Bullion offers IRA-approved products.
What sets SD Bullion apart from its competitors is not only the breadth of its product offerings but also its dedication to transparency and trustworthiness. The company places great importance on providing high-quality products at fair prices.
Through this commitment to value and integrity, SD Bullion has earned a solid reputation within the industry.
Whether you are an experienced investor or just starting out in the world of precious metals, SD Bullion provides a reliable platform to buy physical gold, silver, platinum, or palladium.
With its comprehensive selection of products and exceptional customer service track record backed by years of experience in the industry, SD Bullion continues to be a trusted partner for those looking to invest in precious metals.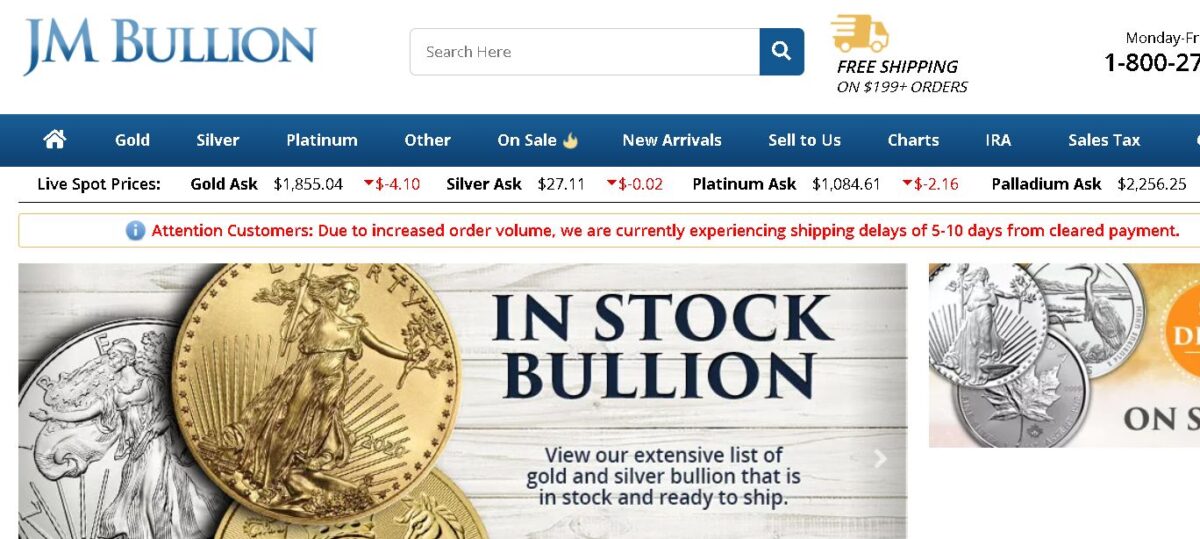 SD Bullion Review
SD Bullion, a leading investment dealer in the precious metals industry, has built a solid reputation based on customer satisfaction and market recognition. Positive reviews highlight their prompt service, reliable packaging, and competitive pricing.
The company's presence in reputable publications like Forbes and Bloomberg further establishes its trustworthiness. In comparison to other dealers, SD Bullion stands out for transparent pricing, a wide selection of products, and excellent customer service.
Overall, SD Bullion is a reputable choice for investors seeking a safe and legitimate dealer in the precious metals market.
Custodians, Storage, and Security at SD Bullion
At SD Bullion, the importance of custodians in the precious metals industry cannot be overstated. When it comes to investing in precious metals, ensuring their safe storage and custody is a crucial aspect. Understanding this concern, SD Bullion offers a range of secure storage options through trusted third-party custodians.
These reputable custodians employed by SD Bullion implement stringent security measures to safeguard investors' holdings. Through their professional expertise and dedication to protecting valuable assets, investors can have peace of mind knowing that their precious metals are stored securely.
SD Bullion provides investors with the flexibility to choose their preferred storage solution from a variety of options offered by reputable custodians. Whether it's allocated storage or unallocated storage, customers can rest assured that their precious metals are under professional supervision.
In addition to partnering with trusted custodians, SD Bullion takes its own security measures seriously. The company employs state-of-the-art technology systems to protect customer information and ensures that all transactions are encrypted for maximum security.
By prioritizing the protection of customer data and employing robust security protocols, SD Bullion maintains a high level of trust and confidence among its clientele.
Overall, at SD Bullion, custodianship, storage, and security are paramount considerations in the handling of precious metals.
By offering secure storage options through trusted third-party custodians and implementing stringent security measures internally, SD Bullion demonstrates its commitment to providing a safe and reliable environment for investors to store their valuable assets.
Heading 1
Heading 2
Importance of Custodians in the Precious Metals Industry
– Safeguarding investors' holdings
– Professional supervision
– Peace of mind
Secure Storage Options Offered by SD Bullion
– Flexibility for customers
– Reputable custodians
– Allocated and unallocated storage options
Security Measures Implemented by SD Bullion
– State-of-the-art technology systems
– Customer data protection
– Encrypted transactions
Fees and Pricing at SD Bullion
SD Bullion sets itself apart by offering a transparent pricing structure. Their website clearly displays competitive prices, avoiding hidden fees and deceptive practices. Compared to other dealers, SD Bullion consistently provides fair and transparent pricing, making it an attractive choice for investors.
Customers can trust that they will receive excellent value for their money without compromising on quality or service. By prioritizing honesty and transparency, SD Bullion ensures a worthwhile investment experience for its customers.
Verdict: Is SD Bullion Legit?
When considering the legitimacy of SD Bullion as a dealer, it is important to evaluate both its trustworthiness and reliability. The company's solid reputation within the precious metals market, along with positive customer satisfaction and industry recognition, undoubtedly position SD Bullion as a trustworthy and reliable option for investors.
In terms of trustworthiness, SD Bullion has garnered numerous positive reviews from satisfied customers, which serves as a testament to the company's commitment to providing exceptional service.
This high level of customer satisfaction speaks volumes about their dedication to meeting their clients' needs and ensuring a positive experience throughout the purchasing process.
Additionally, SD Bullion operates under strict adherence to all relevant regulations and industry standards governing the precious metals industry. By partnering with trusted custodians and implementing robust security measures, they prioritize compliance while placing utmost importance on customer safety.
This commitment to maintaining compliance not only enhances their overall credibility but also ensures that investors can have peace of mind knowing that their precious metals are in safe hands.
Overall, when assessing the safety and legitimacy of SD Bullion, it becomes evident that they stand out as a secure option for investors looking to buy precious metals.
Their track record of customer satisfaction, transparent pricing structure, secure storage options, and commitment to industry standards make them a trusted name in the field of investing.
By choosing SD Bullion, investors can confidently build and safeguard their wealth for the future while knowing that their investments are being handled with utmost care by a reputable dealer in the precious metals market.
[lyte id='Su0Ykg47hEg']